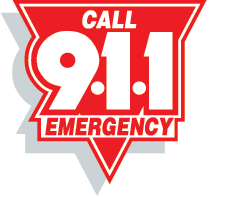 Kosciusko E-911
209 West Adams Street
Kosciusko, MS  39090
662-289-7937
FAX – 662-289-7778
The Kosciusko – Attala E-911 Communications Center provides emergency service resources for operating and maintaining the communications center.  The Communications Center provides radio, telephone and related services to all city and county departments.  In addition, we coordinate the communications system of public safety agencies within the city and county, and provide and maintain an emergency telephone answering and dispatching service.
The important benefit of the E-911 Communications Center is reduction of duplicated services, lost time, and wasted effort.  In the emergency business, time can equal human lives.  Radio communications make it possible for individuals to communicate or to be contacted while they are mobile.  In the field of public safety, the ability to communicate while mobile is a highly prized and effective resource.
An emergency is when immediate police, fire or ambulance assistance is necessary to protect life or property.  Before you dial 9-1-1, you must first make a determination if an emergency is occurring or if it is a non-emergency situation.
You can make a determination of a situation by asking yourself this question:  "Are the police, fire department, or ambulance service needed RIGHT NOW to protect a life or property?"  If yes, then immediately dial 9-1-1 and advise the calltaker/dispatcher of what has or is about to happen.  Give the kind of emergency that is occurring and what type of assistance is needed.  Be specific as possible on the location and conditions of the situation in order to aid the operator dispatching the correct help out to you.  Stick closely to the facts.  State clearly what you do and do not know.   Answer all questions that the dispatcher may ask.  These questions will assist the dispatcher and the response unit.
The Kosciusko-Attala 911 Center has the enhanced 9-1-1 emergency system.  The enhanced system immediately provides the 9-1-1 operator with vital telephone data – displaying the address where the telephone is located, the telephone number of the phone from where the call is being made, and the name of the person to whom the telephone number is listed if it is a landline.  This gives the operator a tremendous advantage in dispatching the necessary emergency response unit to the caller.  If the call is from a cellular phone, the enhanced will display the callback number of the cell phone and the cell phone tower location.
For non-emergency situations, you should use your police/fire departments' regular seven digit telephone numbers.  Your emergency response units (police, fire, ambulance) know and understand that their citizens can't always be right about what they think is an emergency.  All the 9-1-1 center asks is that you CALL THEM whenever you think or feel it is an emergency.  The 9-1-1 operator will make the final determination.  Although the purpose of 9-1-1 is for emergency use only, if you think there is an emergency, but are not sure, go ahead and dial 9-1-1.